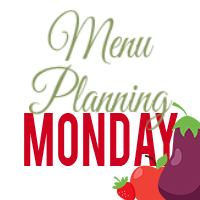 It's Monday ... and life is back to normal now, I suppose!
We had a wonderful time on our cruise. 8 days out at sea, with stops in Aruba, Grand Turk, The Dominican Republic and Curacao. The water was blue, the sand soft, the weather warm and enjoyable. We ate our meals in quiet, and didn't have to intervene with two fighting, screaming children.
We missed them terribly, don't get me wrong!! But a few days away were completely refreshing!! And it was nice to have a break from the cooking and cleaning for a few days, as well.
Since we are back and well rested, its time to get back in the kitchen!! This will be the last week that I'll have to make a menu completely on my own, for awhile! Thanks to
Elizabeth
, I was turned onto
eMeals
, and fell in love with some of their menu ideas! Seriously -- check them out! But here's what we'll be eating this week:
Monday:
Banana Pancakes
, scrambled eggs, bacon, fresh fruit
Tuesday:
Slow Cooker Pineapple Chicken Verde
with salad and brown rice [a veggie for the kids]
Wednesday:
Italian Style Shrimp
with brown rice and a vegetable
Thursday:
Cabbage Rolls
with veggies for the kids [who wont eat the cabbage!]
Friday:
BBQ Chicken Slow Cooker Soft Tacos
[with mangoes and a veggie for L]
Saturday:
Chicken Salad Sandwiches
with picnic fixings at the park [following the linked recipe, only substituting canned chicken for tuna!]
Sunday:
Hot dogs on the grill with
BBQ Baked Beans
and Tomato Pita Salad
So tell me -- what are you eating this week? Have a menu posted up? A fun, new, delicious recipe? Make sure you go over and link up with
Elizabeth
and
Jane
and see who's table you want to crash, whose recipes you'd like to borrow, and maybe make a few new friends. At the dinner table, the more, the merrier, in my book!