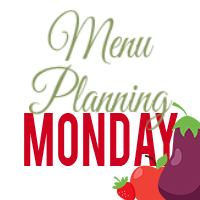 Last week, it's safe to say -- life just got in the way of our menu planning. Between late appointments, a house filled with the crud and last minute birthday party invites, there were a few things on our menu that didn't get cooked, or eaten. So we are making up for that this week. Hey, I don't mind ... they still sound really good, and its a few less meals I have to buy things for!!
Monday:
Grilled Chicken
with
Mediterranean Quinoa Salad
Tuesday:
Spaghetti with Homemade Meat Sauce and Garlic Bread
Wednesday:
Tuscan Grilled Pork Chops
with asparagus and
potatoes cooked in chicken broth
Thursday:
Caribbean Fish Tacos
[but instead of the slaw filling, we are going to use avocado and
this mango pineapple salsa
]
Friday:
Grilled Marinated Steak with
Tomato Pita Salad
Saturday:
Either a Pig Picking [birthday party] or something quick for the kids
Sunday:
Pollo con Queso
with brown rice and vegetables
Really, the only thing I'm slightly worried about this week are the fish tacos -- but I'm not going to let that stop me from making them! They SOUND amazing ... but given our availability of "fresh" fish -- which is NONE -- I can only hope they turn out as good as they sound. If not, we may be hunting some down to enjoy in a few weeks when we're actually in the Caribbean!
Do you have a menu plan for the week? Make sure you go over and link up with
Elizabeth
and
Jane
... check out what other people are cooking up, see who's dinner table you might want to crash, and link up what you are cooking/eating, too!