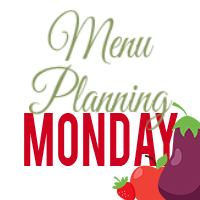 Wow -- as simple as I thought last week's meals were -- since we were pulling just about everything from the depths of the freezer -- we really ate good! And not once did anyone comment or mention that it definitely tasted like the last week of the month! Hooray!
Can you believe it's practically April already?! This month, we'll be starting our new CSA delivery -- in just two weeks! I can hardly wait to be eating fresh, in-season produce all summer long. But in the meantime, we'll just cook what we can before they start harvesting and delivering.
On this week's menu:
Monday:
Leftovers
. We really need to clean up everything in the fridge. We would up skipping Ham dinner on Easter and having our ribs that night, and I cooked American Chop Suey on Saturday. So we have leftovers -- and plenty of them -- of both. And we have some macaroni and cheese leftovers, too.
Tuesday:
Philly Cheese Steak Stuffed Peppers
. I have seen too many people cooking and eating these not to try them. There are many a bandwagon I *won't* jump on -- books, tv shows or movie trilogies [Twilight ... ick] and sports to name a few. But food? I'm all about that bandwagon.
Wednesday: Alligator -- Both Fried and Grilled. My father in law ordered some from Louisiana, or somewhere down there. And is planning on cooking it up. He's never had it -- so why he ordered it, Im not really sure. And if he really knows how to cook it is beyond me. But M and I both have had Alligator nuggets and they are fantastic!! I'll probably do some mac and cheese and a veggie with it this night in case the kids take hint of what we are feeding them. Ha Ha Ha
Thursday:
Marinated Steak with Cheesy Broccoli Potatoes
. Sometimes, its to hard to think of different things to do with a piece of steak, so that the meal doesn't get boring. Solution? Switch up the sides. Even if you are doing potatoes in some form a lot, there are a ton of different things to do with potatoes.
Friday:
Aloha Pork Chop Skillet.
This is quick. Fun. Easy. And really good. I love the pineapple in it. It's probably my favorite part. L. wont get much of the pineapple -- he loves it, but it doesn't love him that late in the day. Poor kid and his reflux. So he'll get a couple extra veggies. Maybe a banana, too.
Saturday: Out to Dinner. We are going to be celebrating M turning 29!! So, even though I've been making a big effort to not eat out nearly as much anymore, it will be a nice treat to all go out for his birthday. Maybe even have the place sing to him -- I know he'll just *love* that. Or maybe not. Our trip is coming up ... I don't want to be watching over my shoulder for retaliation the whole time! ;)
Sunday:
Trisha Yearwood's Chicken Pie.
The last time I made this, it was a HUGE hit with the husband. And there were no leftovers. I'm sure there will be a vegetable, or two, to go with it -- at least something green. And maybe some rolls or biscuits. They are great for sopping up the gravy/sauce in it.