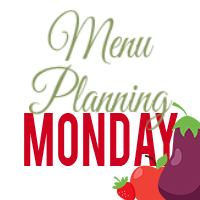 It's another Monday morning, everybody! Hope you all had great weekends! Ours was warm, and full of water activities with the kids in the backyard! Summer is officially on its way in North Carolina -- and these warmer temps now feel just like they should!
With the rain and warm weather that we've been getting lately, the local crops have been growing great. We are surrounded by farm land. Since we bought into a CSA earlier this year from one of the local farms, we've been eating a lot of fresh fruits and veggies these past few weeks, too. And this week is no exception. ALL of the side dishes I am making this week are using fresh stuff from the farm. And we also have a ton of strawberries and some red potatoes for breakfasts, and maybe some home fries or hash on a weekend morning! Yum! There is nothing like eating fresh, local food.
Here's what's on our menu for the week:
Monday:
Hamburgers on the grill w/ whole wheat pasta salad [we didn't eat this last week]
Tuesday:
Flank Steak with Tomatoes + Red Onion and a side of garlic roasted cauliflower
Wednesday:
Smoked Paprika Chicken and garlic sauteed green beans
Thursday:
Penne Pasta with Tomatoes and Garbanzo Beans and whole wheat bread
Friday:
Pork Chili Verde and a side of squash casserole
Saturday:
Oven Roasted Turkey Wings and a side of bacon wrapped green beans
Sunday:
Crispy Panko Crab Cakes with a side of roasted broccoli
So tell me -- what are you eating this week? Have a menu posted up? A fun, new, delicious recipe? Make sure you go over and link up with
Elizabeth
and
Jane
and see who's table you want to crash, whose recipes you'd like to borrow, and maybe make a few new friends. At the dinner table, the more, the merrier, in my book!