it's that time, again!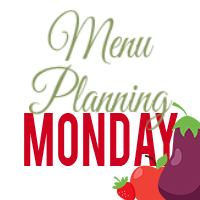 we did really well last week. once again, we had one meal that didn't get cooked. but it was my own issue. i was convinced we had a pork loin in the freezer. the freezer was not convinced. in the end, the freezer won. we didn't have one. i don't want to talk about it! so that meal didn't get cooked and i made breakfast for supper instead.
which was a good choice -- because it was the one meal all week that EVERYONE raved about. and the one meal that I need to learn to start making more of. everyone wanted more french toast. more eggs. and there wasn't any of either.
so what's on this week's menu:
Monday: chili with cornbread --
my father in law is cooking it and bringing it over, so i am going to finally get around to making the bacon wrapped jalapenos for the husband and i.
Wednesday: kielbasa with onions and peppers over rice and some fruit
Thursday: roast chicken thighs with stuffing and a veggie



Friday: bbq lil smokies with mashed potatoes and a veggie


Saturday: best ever bbq ribs in the crockpot with baked beans, mac and cheese and a veggie
Sunday [Easter!!]: pineapple-glazed ham with mashed potatoes, peas, buttered rolls and some dessert -- i can't decide if i want to make a pineapple cake or something different?
a lot of these meals look a little simpler than i normally include, or cook. but its the last week of the month ... and anyone that gets paid once a month knows that by the end, at times you are scraping the bottom of the barrel! i set a certain budget for groceries, and use only that in cash. well ... with buying the corned beef one week and taking my husband with us to the grocery store another week, we spent a little more some weeks than i normally would out of the budget. so we use the last week of the month to clean out whats already in the freezer.
do you have a menu plan for the week? make sure you go over and link up with
Elizabeth
and
Jane
... check out what other people are cooking up, see who's dinner table you might want to crash, and link up what you are cooking/eating, too!