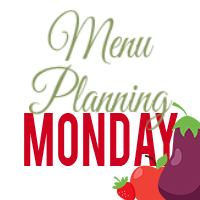 Another Monday is upon us -- which means another work week ... and another week of menu plans. Since I do my grocery shopping on Tuesdays [because our local base's commissary is not open on Mondays!] I already have Monday's meal planned and shopped for. But starting with Tuesday, I technically have less planning to do on my own! Since last week we signed up for eMeals!! I am so excited to try out some of these recipes -- and some of the breakfasts, too, since we added those this go around. And if we like it enough, and re-subscribe after our initial three months, maybe then we'll change it up and do lunches instead of breakfast! But here's to some new, clean eats!
Monday:
Pineapple Ham Steak w/ mashed potatoes and
roasted garlic broccoli
Tuesday:
Fettuccine with ricotta, tomatoes and fresh herbs [and some whole wheat crusty bread]
Wednesday:
Crumb-coated Chicken Thighs with Dijon and
roasted cauliflower with garlic
Thursday:
Meatloaf with mashed potatoes and a veggie
Friday:
Savory Beef Short Ribs with brown rice and a veggie
Saturday:
Hamburgers on the grill with whole wheat pasta salad
Sunday:
Bacon-wrapped Smoky Chicken Thighs
So tell me -- what are you eating this week? Have a menu posted up? A fun, new, delicious recipe? Make sure you go over and link up with
Elizabeth
and
Jane
and see who's table you want to crash, whose recipes you'd like to borrow, and maybe make a few new friends. At the dinner table, the more, the merrier, in my book!